Product Description
Introducing an elegant and minimal version of the Chelsea boot, our new wholecut chelsea boot in Black French boxcalf from Les Tanneries du Puy. Famous for their traditional boxcalf tannage & quality of their products.

A wholecut chelsea boot, made of just a single piece of leather. An extremely difficult design to achieve, but totally worth it. Hand blocked on the last to get a perfect fitting and a very narrow & tappered leg opening.

A very proportioned pattern, that suits the HIRO last perfectly; A classic combination not to round, but not to elongated either. It is the must have for Today's Gentleman.
Fitted with a front & back pull tab for an added comfort & finished with a sturdy double rubber sole for an added traction.

All in all, a true classic, revisited that just arrived to stay & become your go-to boot.
Specification
Construction
Goodyear welted
Last
Hiro
Uk fitting
E (medium)
Upper leather
Boxcalf
Tannery
Du puy (france)
Sole
Double studded rubber
Insole
Vegetable tanned leather
Lining
Full grain calf
Hiro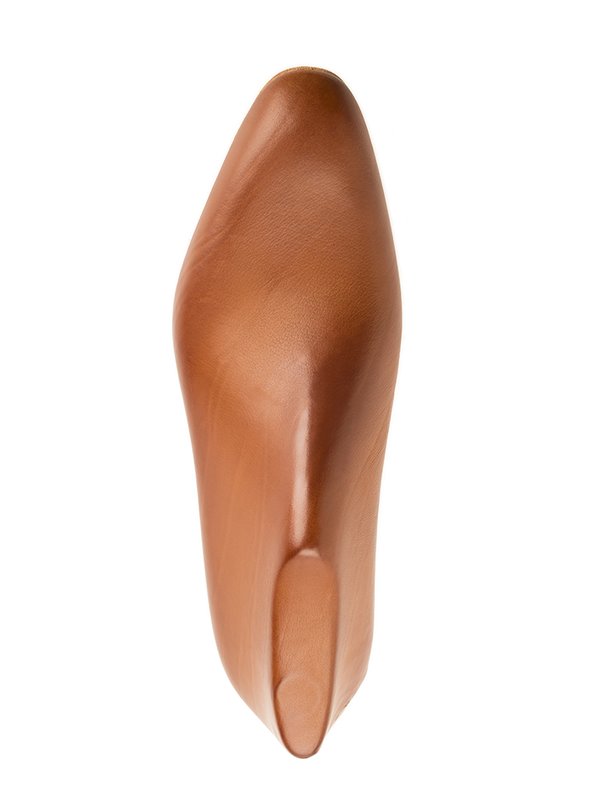 Our Classic round last, one of our most popular & versatile ones. A very well proportioned shape, not too long, not too short, just spot on. The HIRO last fits greatly oxford, boots & monk styles.True to UK size & features a UK E Medium fitting. Slightly wider heel with a regular to low instep & classic round toed shape. One of our most demanded lasts. A few styles also available in an extra wide G-Fit.
Note: All Meermin Shoes are UK Sized. Take 1 full size down from your US size.
Hiro Last Measurements:
| | | | | |
| --- | --- | --- | --- | --- |
| UK Size | Insole Length | Insole Width | Ball Girth | Foot Length |
| | | | | |
| | | | | |
| | | | | |
| | | | | |
| | | | | |
| | | | | |
| | | | | |
| | | | | |
| | | | | |
| | | | | |
| | | | | |
| | | | | |
| | | | | |
| | | | | |
| | | | | |
| | | | | |
| | | | | |
| | | | | |
| | | | | |
| | | | | |
---
The Ultimate Chelsea Boot.
Narrow ankle opening —
The ankle opening is a crucial point in a good Chelsea boot. We made it narrower to make to make the look of the boot even sleeker & for a more tapered fit around the ankles. A better fit around the ankles provides a better support & is way more comfortable.
Wholecut pattern. One piece —
This boot is a sleeker version of our classic Chelsea boot and even it might not look like it, we've redesigned it all around. Cut from a single piece of leather, this boot can only be cut from the finest hides, as larger pieces of leather are needed (meaning a lot more waste). A great design, difficult to craft but totally worth it. Carefully designed with no side seams & enhanced back seam shape.
Top Spec Leather —
Our Black boxcalf comes from the finest Tanneries in France. Specifically from Les Tanneries Du Puy. The boxcalf used in the production of this boot is exclusively made using French grazed hides & made following the same traditionel boxcalf tannage technique this tanneries have been using for centuries.
Hand-blocked on the last —
Before lasting, every pair of this new Chelsea boot is hand-blocked on the last. This is the only way to achieve the desired shape of this stunning pattern.
Just the most skillful craftsman are able to hand-block this pattern on the last properly in order to ensure a perfect adjustment & optimal tension of the uppers.
A true everyday boot. Made to Last.
Dress them up for a nice tailored look or wear them casually for a night out. No matter the occasion, this boot will not disappoint.
Goodyear Welted to last on the classic round Hiro last. For this specific style adjusted in the back area for an improved fit around the ankle. Properly made, using vegetable tanned leather insoles, welts, heels stacks & finished with a sturdy double rubber sole. Needless to say that this, as the rest of our shoes is fully resoleable when the time comes.
Size Guide Men
Please note that all our shoes & boots are UK sized. Below you'll find the men's specific size chart:
---
Can I use my sneaker's size as a reference?
Goodyear Welted shoes & sneakers are made & fit quite differently. Sneaker fit is quite forgiving, whereas in a Goodyear Welted pair of shoes you'd like to have a close and adjusted feel in order to have the best and most comfortable fit.
Said that, better to compare with another pair of Goodyear Welted or dress shoes you have or have tried before.
What do you recommend if I am in between sizes?
If you're in between sizes, size up. Too tight shoes will end up resulting uncomfortable or not wearable.
Do your lasts fit all the same?
No they don't. Said that, most of our lasts are UK E width (medium/regular fit) and you most likely will be wearing the same size across many of them.
We recommend checking our Lasts page for a more detailed description of each of the lasts we currently have in production.
I wear a special size, can you produce a pair for me?
Sure! Most of our ready to wear production goes from size 6UK to 12UK, but if you happen to wear a smaller or larger size, we can definitely help & specially make any pair from our collection for you. Please do contact our CX Team, we'll be delighted to assist you.
I wear orthotics—Can I remove the insoles?
The answer is no, but there are a few exceptions. The leather insole is a structural part of our shoes/boots, is where the Welt & uppers are stitched through the welting process, and so it cannot be removed.
Said that, there is one exception, which is our Ultraflex System construction, which aside from the structural leather insole also comes with an additional memory foam insole on top of it. This memory foam insole can be removed easily.
---