Product Description
Introducing our newest version of our plain toed service boot. A casual design updated, featuring our very own Ultraflex System construction welted on the comfortbale ROD last, fitted with storm welts & custom city rubber soles. This new range is made using unique casual leathers from world renowned tanneries, for this specific version we've selected the unique Shrunken Kudu leather in a deep Snuff shade finished with a versatile City lug sole.

This verion is made using the unique Shrunken Kudu from C F Stead. This specific version of the Kudu leather from Stead is finished in a unique way which shrinks the leather fibers resulting in a deeper texture exposing all the kudu's grain and a nice sheen. The Waxy Kudu leather is a special one—waxed antelope leather from Southern regions of Africa. A striking & very unique leather which features all the natural blemishes, marks and scratches of a wild antelope that lived in the bushes. Blemishes & cuts are part of the interest of this leather and will be used on the production of the uppers.

Please note that this leather does not look like smooth French calfskin at all, is a very rugged, mellow & very unique Antelope leather which accepts scars & marks as part of the uniqueness—which make every single pair truly unique.

The Ultraflex System is also our newest take on the Goodyear Welt construction — A whole new system developed from scratch where Quality & Style meet real Comfort. This system is a combination of materials & technique making this boots, possibly the most comfortable Welted boot range in the market.

As the rest of our shoes this boot is made to last & to just get better looking & more comfortable over the time. When the time comes, fully resoleable & rebuildable.
Specification
Construction
Ultraflex system
Upper leather
Shrunken kudu waxed
Tannery
C f stead (uk)
Sole
City lug
Insole
Vegetable tanned leather
Lining
Du puy veg tan calf
Last
Rod
Uk fitting
E (medium)
Rod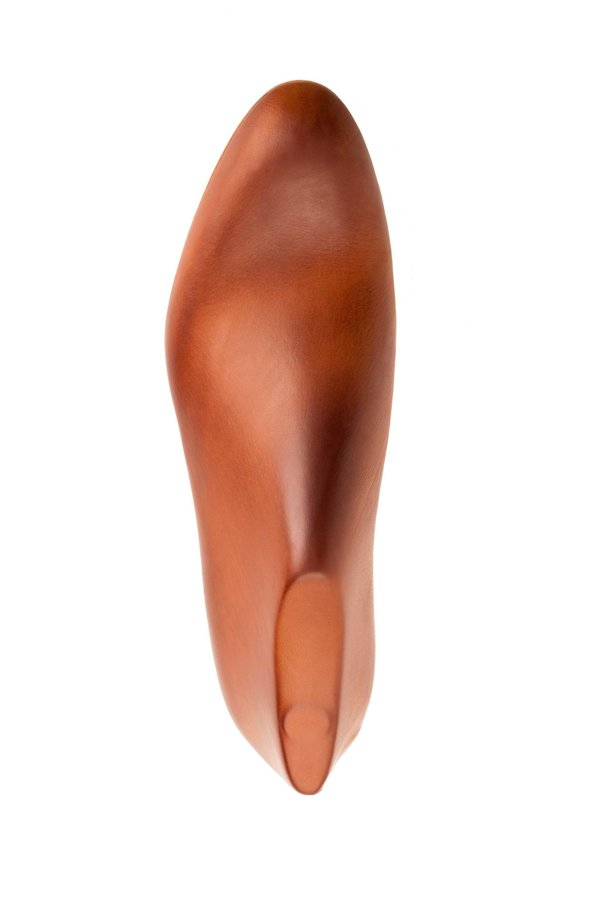 The ROD last features a casual round toe shape and a truly acommodating fit. As its sister HOK last, the ROD is a voluminous last, featuring a wide ball tread, providing superior comfort to the wearer. It is one of our most forgiving & comfortable lasts within our range. Providing excellent support while retaining a snug heel control so that the foot remains in place avoiding any slippage or sliding-forward to within the boot.
The ROD last is exclusive to the Ultraflex System range.
The Ultraflex System is our newest take on the Goodyear Welt construction — A whole new system developed from scratch where Quality & Style meet real Comfort. This system is a combination of materials & technique making these shoes, the most comfortable Welted dress shoe in the market. We've maintained the lines & look of our HOK last, but adjusted to be able to accommodate the double insole system during production, without affecting the overall fit.
The most popular styles on the ROD last are our Service, Jumper & Wholecut Chelsea Boots.
Note: All Meermin Shoes are UK Sized. Take 1 full size down from your US size.
ROD Last Measurements:
| | | | | |
| --- | --- | --- | --- | --- |
| UK Size | Insole Length | Insole Width | Ball Girth | Foot Length |
| | | | | |
| | | | | |
| | | | | |
| | | | | |
| | | | | |
| | | | | |
| | | | | |
| | | | | |
| | | | | |
| | | | | |
| | | | | |
| | | | | |
| | | | | |
| | | | | |
| | | | | |
| | | | | |
| | | | | |
| | | | | |
| | | | | |
| | | | | |
---
Size Guide Men
Please note that all our shoes & boots are UK sized. Below you'll find the men's specific size chart:
---
Can I use my sneaker's size as a reference?
Goodyear Welted shoes & sneakers are made & fit quite differently. Sneaker fit is quite forgiving, whereas in a Goodyear Welted pair of shoes you'd like to have a close and adjusted feel in order to have the best and most comfortable fit.
Said that, better to compare with another pair of Goodyear Welted or dress shoes you have or have tried before.
What do you recommend if I am in between sizes?
If you're in between sizes, size up. Too tight shoes will end up resulting uncomfortable or not wearable.
Do your lasts fit all the same?
No they don't. Said that, most of our lasts are UK E width (medium/regular fit) and you most likely will be wearing the same size across many of them.
We recommend checking our Lasts page for a more detailed description of each of the lasts we currently have in production.
I wear a special size, can you produce a pair for me?
Sure! Most of our ready to wear production goes from size 6UK to 12UK, but if you happen to wear a smaller or larger size, we can definitely help & specially make any pair from our collection for you. Please do contact our CX Team, we'll be delighted to assist you.
I wear orthotics—Can I remove the insoles?
The answer is no, but there are a few exceptions. The leather insole is a structural part of our shoes/boots, is where the Welt & uppers are stitched through the welting process, and so it cannot be removed.
Said that, there is one exception, which is our Ultraflex System construction, which aside from the structural leather insole also comes with an additional memory foam insole on top of it. This memory foam insole can be removed easily.
---